Features
Scheduling and
Time Tracking
Manage hourly employees and contractors with confidence. Track shifts and projects in one place, and always how and when the work's getting done.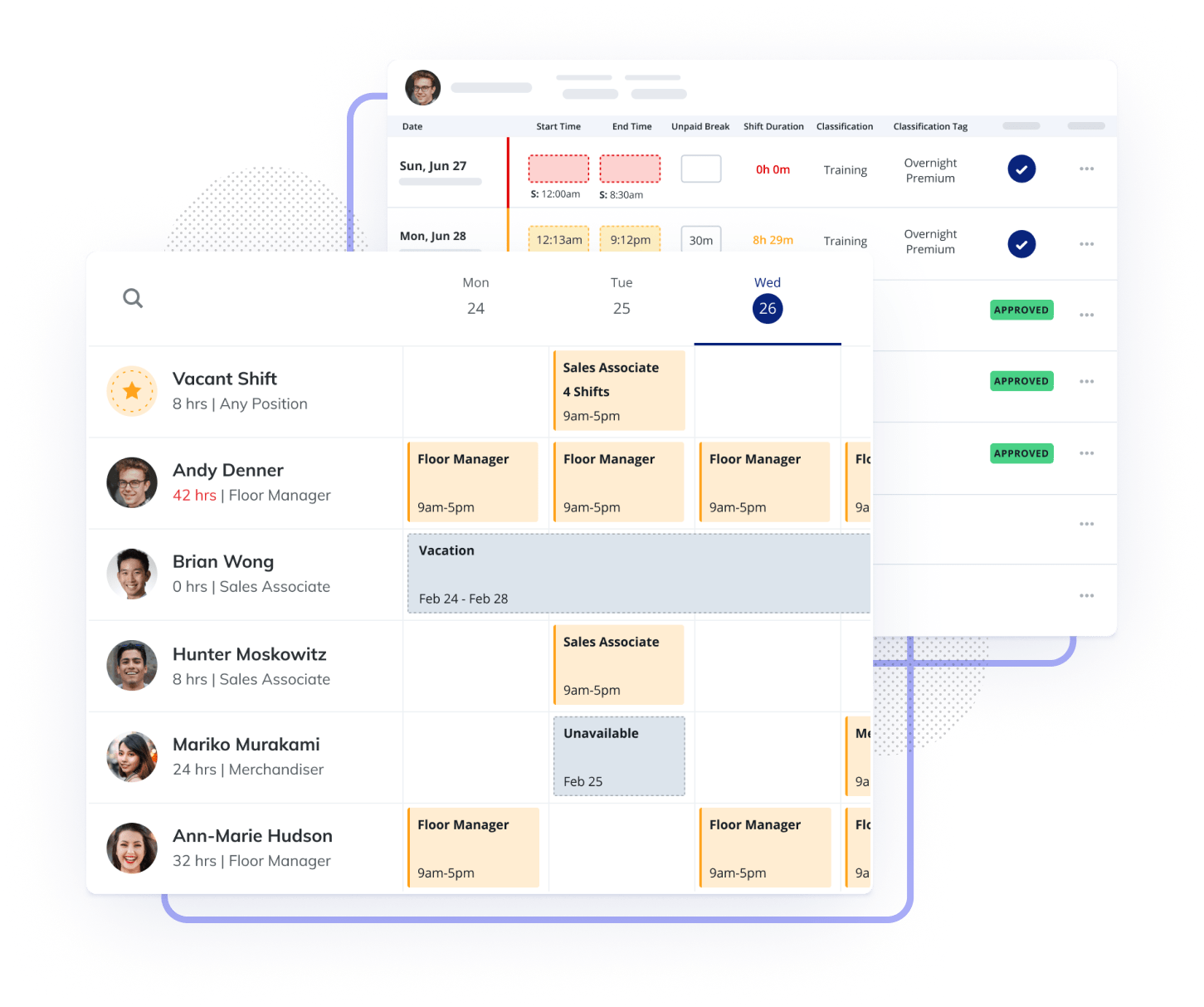 Schedule
Employees can view, swap, or pick up shifts online or on their mobile device.
Mobile Punches
Forget outdated technology. Employees just need their smartphone or tablet to punch in or out.
Cover My Shift
Employees can request to have their shift covered, eliminating no-shows.
Email Notifications
Notify employees of schedule updates, shift changes, and requests.
Open Shifts
Allow employees to pick up shifts that fit their schedule.
Employee Time Off Sync
Know who's away, when. Any approved time off is automatically synced with timesheets.
Employee Scheduling
Build employee schedules based on location, department, or position in minutes.
Multiple Locations
Schedule teams across one or many locations to scale your business with ease.
Shift Eligibility
Match shifts with employee qualifications and availability.
Recurring Schedules
Cut down on work and schedule in a snap by copying existing schedules.
Shift Notifications
Keep everyone in the loop with email notifications about upcoming shifts, any shift changes, or requests.
Shift Coverage
Respond instantly to changes, and post or cover shifts automatically.
Find Replacements
Offer open shifts to qualified employees and get notified when they're filled.
Mass Editing
Edit schedules or approve changes and time off requests in just one click.
Flexible Timesheets
Customize timesheets to collect whatever your business needs for any type of employee—exempt, non-exempt and contractors.
Mobile Punches
Employees can clock in and out on any device—tablet, computer, or smartphone.
Advanced Time Clocks
Punches are validated by face or touch ID, user ID card, PIN, and more.
Terminal Punch
Allow employees to punch in and out using a regular tablet, with no need for dedicated hardware.
Shift Adherence
Keep labour costs down by preventing early or late clock-ins.
Smart Approvals
Validate data, make manual overrides, and approve employee timesheets—all online.
Labour Law Compliance
Automate pay calculations and compliance with overtime, paid and unpaid breaks, and other labour requirements for salaried and hourly employees.
GPS Timesheets
Track location details and time entries using GPS or geofencing for real-time visibility and accuracy.
Import to Payroll Sync
Transfer your time data to Payroll with just one click for error-free processing.
Detailed Reporting
Gain visibility into labour costs, overtime, compliance, and more with pre-built and custom reports.
Scheduling Reports
Gain insight into shift and time off information for departments, locations, and employees.
Time Tracking Reports
Get a clear understanding of how many hours and what type of hours your employees are working, plus how they're punching in and how punctual they are.