Features
HR
Put your people first. Redefine the employee experience and bring your culture to life with a people management platform that's designed to revolutionize HR.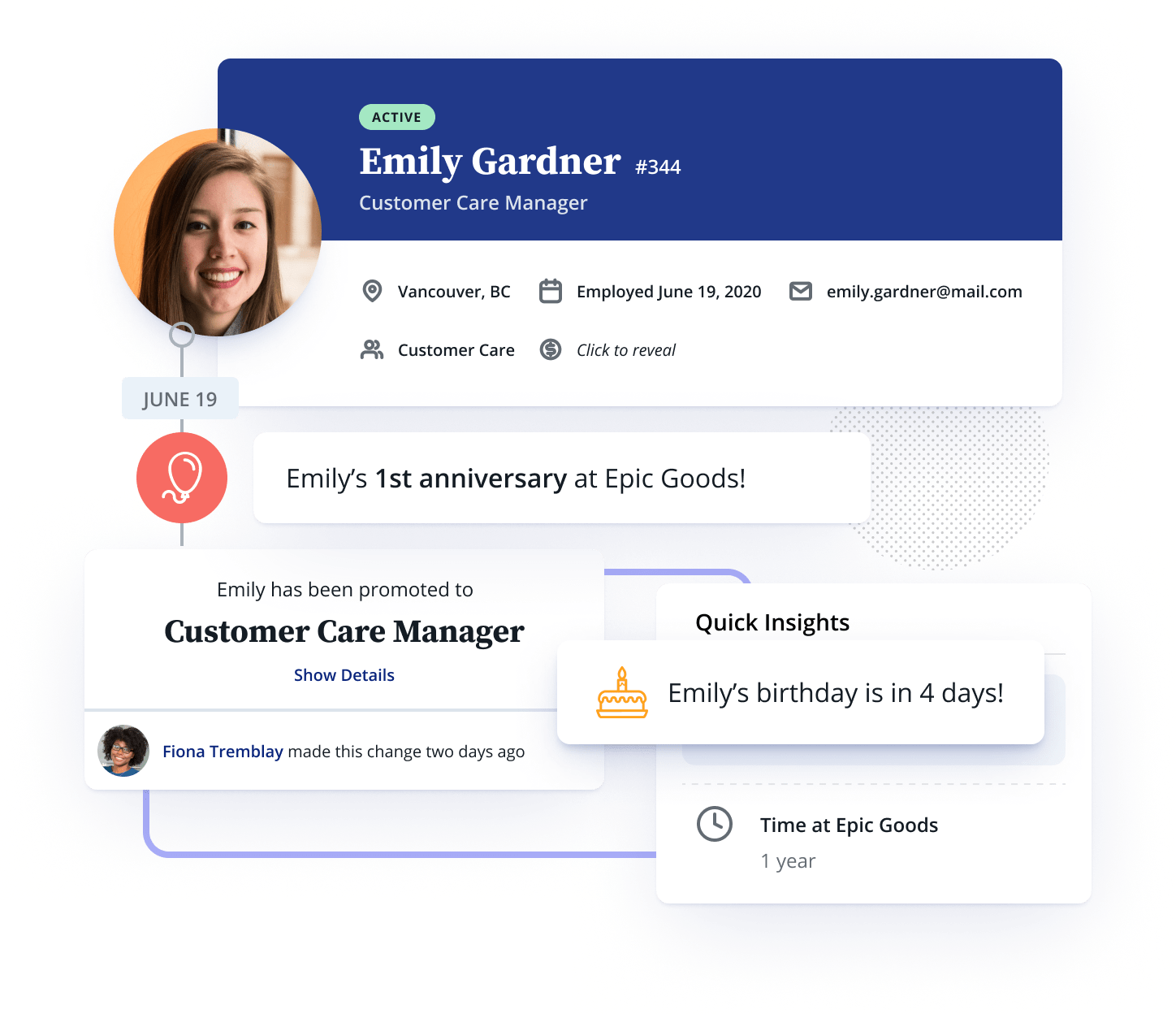 People Directory
Get a holistic view of your organization and employees with profiles that include achievements, birthday, length of employment, and more.
Dynamic Org Chart
Create a functional, shareable org chart populated with employee information.
Automated Workflows
Always know about new hires, promotions, and terminations with self-serve updates and change-approval queues.
Custom Roles and Permissions
Protect sensitive information while ensuring managers and employees have the access they need to perform updates and work tasks.
On-Demand Pay Stubs
Generate detailed pay stubs that employees can access online or on the app.
eSignatures
Upload and assign documents to get signatures faster with unlimited signature requests, built-in reminders, advanced options for signing, templates, audit trail, and more.
Event Notifications
Automatically send managers reminder emails about employee milestones, work anniversaries, or birthdays.
Pronouns
Support diversity and inclusivity. Employees can add their preferred pronouns to their Rise profile by selecting from preset pronoun options or inputting their own pronouns that best match their personal identification.
Company Documents
Share information efficiently by uploading an unlimited number of documents such as plan booklets, company policies, and more.
Employee Documents
Create and upload important employee documents while maintaining confidentiality, including pay stubs, tax documents, offer or promotion letters, NDAs, and more.
Careers Page
Promote open roles on your branded careers page.
Easy Apply
Get applicants into your funnel faster with one-click apply.
Team Collaboration
Make hiring a team effort with tools that keep everyone engaged and in the loop.
Candidate Management
Stay on top of your hiring pipeline with custom application statuses and pre-screening questions.
Candidate Pool
Keep a record of past applicants for easy hiring in the future.
Easy Onboard
Skip re-entering information and start onboarding new hires in just one click.
Offer Letters
Digitally send offer letters with a link to instantly sign and accept the offer.
Welcome Emails
Say hello to new hires with a custom email sent automatically at the start of onboarding.
Self-Onboarding
Make onboarding easier by building your own guided, paper-free process.
Tax Forms
Keep the paperwork online with built-in federal and provincial tax forms.
Onboarding Tasks
Create checklists and auto-assign tasks to get new employees up and running faster.
Seamless Sync
Never worry about duplicate data entry. Employee banking information automatically syncs with payroll, keeping your data always up-to-date.
Organization Profile
Share your company's mission, vision, and core values with easy-to-access documents and information.
Offboarding Tasks
Make offboarding a smooth experience with predefined tasks and templates.
Launch Reviews
Set up a review cycle that automatically emails everyone when it's time to write reviews.
One-on-One Reviews
Foster employee engagement and growth with self and top-down reviews.
360 Degree Feedback
Get the whole picture with feedback from the employee's manager, team, and colleagues.
Flexible Review Process
Build reviews that work how you work, with custom questions and timelines.
Project-Based Reviews
Provide an opportunity for stakeholders and collaborators to reflect on recent projects and create a regular feedback loop.
Custom Templates
Get more specific feedback with customizable templates.
Question Bank
Create a review template in minutes by using our research-backed questions.
Performance Review Tracking
Keep track of who's started and finished their reviews.
Reminder Email
Easily nudge employees who haven't completed their reviews.
Weekly check-ins
Build stronger connections, provide feedback, and uncover issues in real time.
Vacation and Leave Tracking
Approve time requested by employees and automatically calculate balances.
Flexible Time Off Policies
Create custom unpaid and paid time off policies: birthdays, work anniversaries, volunteer days, etc.
Expiring Time Off Accruals
Control employee accruals by adding expiration dates.
Who's Away
See at-a-glance who's taking time off and when.
Email Alerts and Approvals
Keep everyone informed of time off requests and approvals with email notifications.
Multi-Step Approvals
Add an extra layer of control and flexibility by allowing multiple managers to approve time off requests.
Calendar Integration
Connect your own calendar to keep on top of who's away and when.
Time Off Reports
Stay informed about time off balances by generating reports within a specific timeframe.
Seamless Sync with Payroll
Avoid reconciliation headaches. Time Off automatically calculates usage, balances, and accruals, then sends them to Payroll.
People Reports
Get insight into your people data with unlimited, customizable reports including compensation summaries, vacation balances, headcount, turnover, and more.
Mobile App: iOS and Android
Dashboard
Give your employees mobile access to pay stubs, time off requests, employee profiles, and more.
Digital Pay Stubs
View pay stubs and tax documents from anywhere.
HR Documents
Access all employee documents for easy reference on-the-go.
Vacation and Leave Tracking
Quickly request and approve time off.
Time Clocking
Make it easy for hourly employees to punch in and out.