While a large majority of companies use Instagram to promote their latest product or offer, the industry giants on this list use it as a recruitment tool. In this article we'll look at 9 companies who've masted employer branding on Instagram.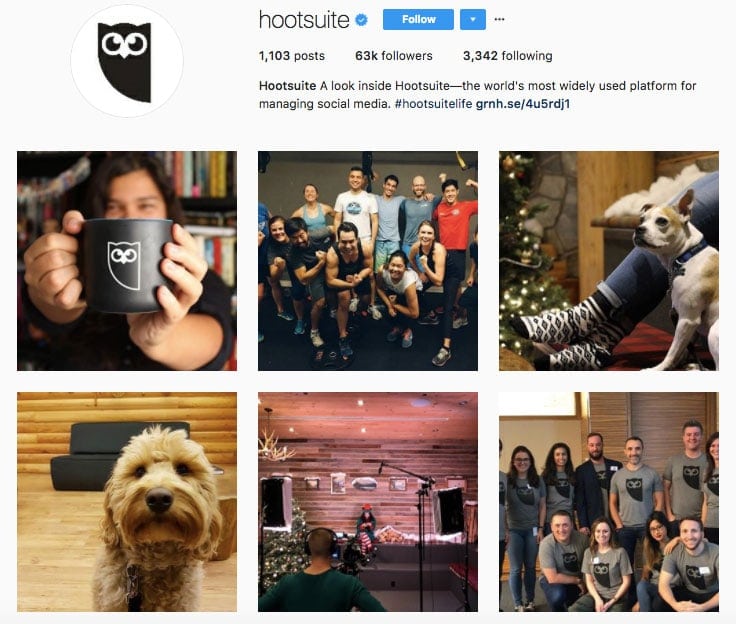 Any company that bills itself as the "most widely used platform for managing social media" better have an all-star Instagram profile, and Vancouver-based employer, Hootsuite, delivers.
Their account features employees stretching during a lunchtime yoga class, the Labs Team "looking fly" on Formal Day, and a #hootdog napping at noon. Most impressive is how Hootsuite turned a product launch into a recruitment tool through Instagram.
Scroll past those yoga poses and sleeping pups and you'll see shots of mic booms and camera bags, storyboards and scratchpads—a behind the scenes peek at how the YouTube integration campaign was created.
But the posts also hint at what it's like to be on the team at Hootsuite. In one caption, Video Producer Evan Aagaard praises his lighting consultant for the magic he worked with minimal gear. Another explains how Hootsuite's designers, writers, and creatives first came together to conceptualise the campaign.
The subtext? There's no waterfall approach at Hootsuite. And while reduced resources can occasionally be an obstacle, it's one that team members are empowered to overcome.
Sure, these subtleties could be accidental rather than strategic, but as we write this article, Hootsuite has 12 open positions in its Marketing department. That seems like more than a coincidence, don't you think?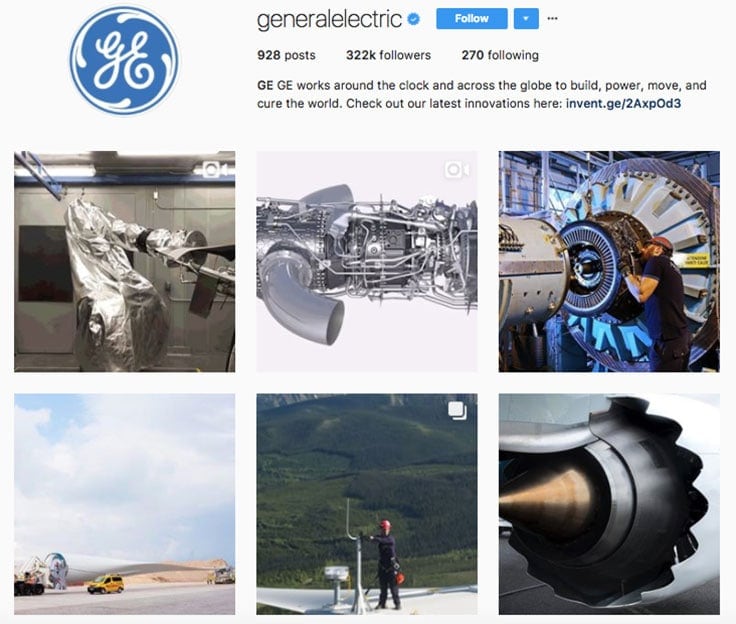 The majority of GE's Instagram posts feature laser melting machines, 3D printers, and jet engines. The page is beautiful and a testament to how technology is changing the world. But in May of this year, the sleek, industrial aesthetic suddenly shifted. A slew of portraits, specifically female portraits, appeared on GE's account.
To celebrate Mother's Day, GE ran an Instagram feature of women on their team—those #MothersOfInvention who help the company "build, power, move, and cure the world." An in-depth Q&A, included alongside the portrait, asked each woman to explain what inspired her to enter the traditionally male-dominated fields of #STEM—science, tech, engineering, and math.
A nice gesture, to be sure—but also a solid move, recruiting wise. Most progressive companies want to build a more diverse workforce. The #MothersOfInvention campaign proved the company's commitment to hiring and developing female employees. GE isn't a boy's club—and thanks to this creative Instagram campaign, they may be able to bring even more women on board.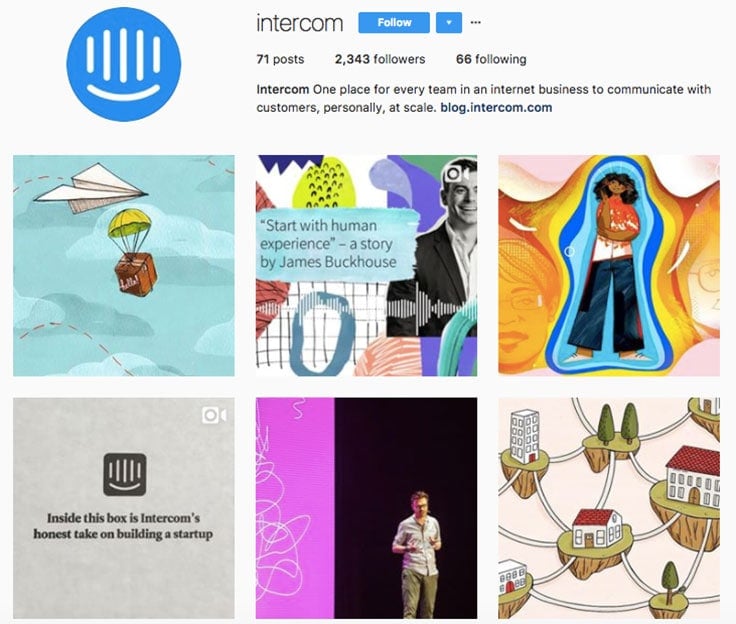 Compared to the other companies on this list, Intercom joined Instagram relatively recently. But their employer branding is strong.
We'd expect nothing less from the people who run an "Inside Intercom" world tour. And yes, you read that right. "We're hosting evening events around the world that focus solely on what it takes to make a great product," reads the tour description. Of course, "Inside Intercom" has another benefit as well: it shows everyone what it's like to work at a product-driven company.
You can find highlights from "Inside Intercom" on Instagram, along with candid shots of the team celebrating Taco Tuesday or gathering for demos in the Dublin office. Our favourite? A post showing a desk drawer filled with Kinder Surprises, chocolate bars, and other sweet treats. It's captioned simply,  "Every office needs a cheat drawer."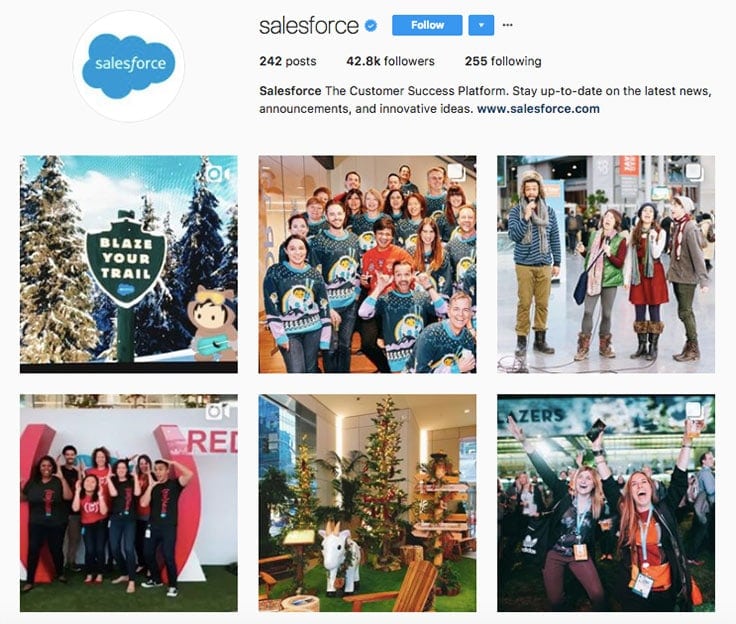 What can compete with an office cheat drawer? Perhaps Salesforce's Hawaiian-themed happy hour, which the company documented on Instagram—along with its office pumpkin carving contest and #PuppyForce of office dogs.
We're most impressed by how Salesforce uses its Instagram account to showcase corporate social responsibility. One shot features employees decorating shoes—volunteer work they completed in celebration of the company's 17th birthday. Another shows the pledges that team members made for Earth Day, written in white against a bold blue wall.  There are posts that show Salesforce employees in Costa Rica, building a school, and one memorable shot of piled up children's books—just some of the million the company collected for kids in need.
The message, from a recruiting standpoint, is simple: join us and give back. You'll get a paycheck, sure—but also the chance to change the world.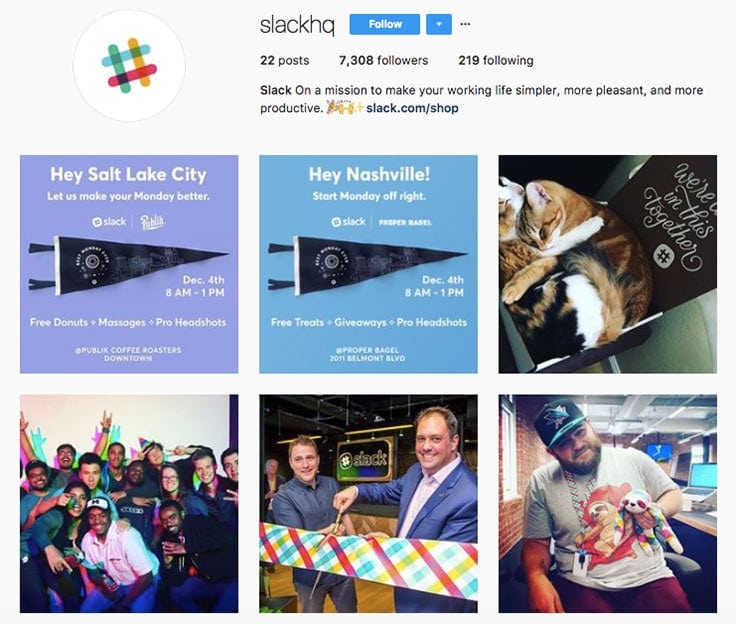 There are a whole lot of sock puppets on Slack's Instagram page, each done up in the company's signature neon plaid. "These are Sock Sloth and Sock Shrimp," reads the caption on one such post. "Here they are in Slack's Vancouver office after being kidnapped from San Francisco by Product Designer Hubert Florin."
Slack has the usual number of posts featuring smiling, happy employees. But it's these oddball images that catch attention and do the most to build their employer brand. After all, every company has a requisite team member shot or two. Slack's genius is to capture our attention with unexpected images that raise questions—then provide some answers and insight in the caption.
Slack's Instagram profile introduces people to their potential colleagues—and if they're anything like Hubert, that's got to be one fun crew.
Feeling snap-happy? I don't blame you. These five companies make me want to plan a mini office photo shoot ASAP. When you invest in company culture, there are ample Instagram-worthy moments every day. So why not share a few with the rest of the world (and maybe, just maybe, find your next new hire at the same time)?  
There's just one thing left to do—and that's to find the perfect filter.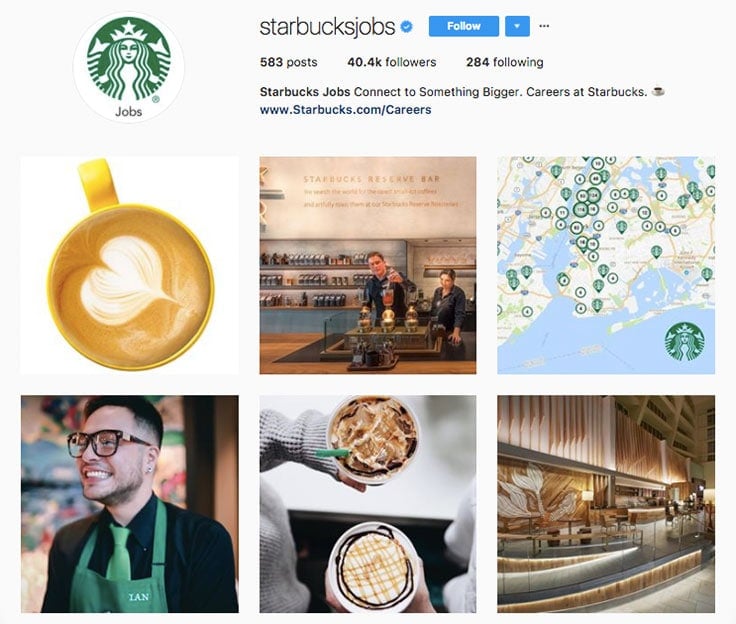 Starbucks uses Instagram to give mocha frappachino lovers an inside look at what it's like to don the green apron and work the espresso machine. Never one to slouch on branding, the Starbucks career page on Instagram employs the same style and precision as its primary profile page. Content is shared from across the company from the bakery, marketing, operations, and more to show followers how a powerhouse brand comes together. Each of the meticulously edited photo goes to show Starbuck's dedication to maintaining the brand image.
Starting from the beans to the lattes Starbucks combines brilliant photography and content generated from employees to make the page feel energetic yet approachable and friendly. As an employer the smiling faces and candid moments really drive home the theme of family to help make Starbucks look like the perfect place to work for any coffee enthusiast. And as caffeine addicts ourselves we wouldn't mind all the free coffee either.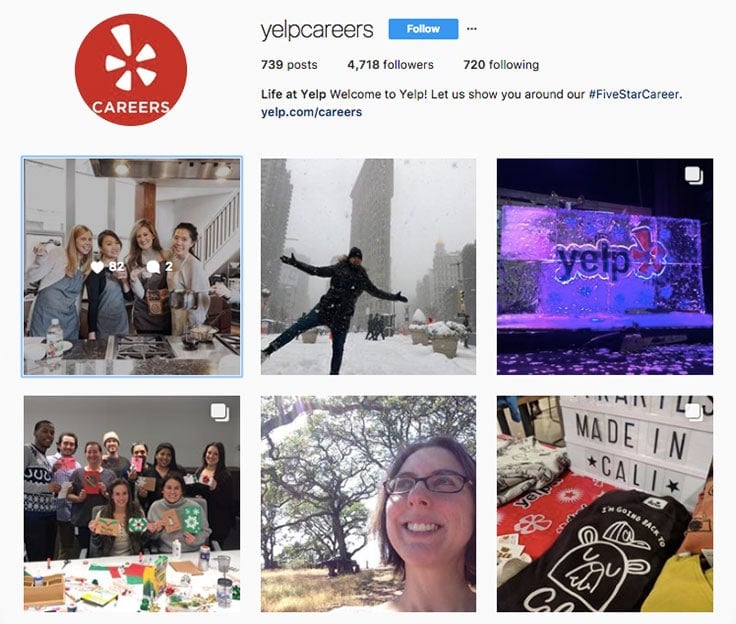 Discovering a new and awesome restaurant might be as good as winning the lottery for any dedicated foodie. The same feeling goes into finding the perfect career at Yelp. Yelp's career page on Instagram is a mashup of content from across the company's departments within the company. Yelp primarily uses photos generated by employees to give the profile a more candid feel which one could say gives the profile a down-to-earth feel. Either way one can tell Yelp isn't a company that takes itself too seriously.
From company events, both corporate and for team building, future employees can see the active and social nature of the Yelp offices. A quick glance at the content shows that a fantastic work life balance is important at Yelp. From what one can see there are loads of photos of employees out enjoying and having fun with their fellow Yelp staffers. The Yelp career page on Instagram regularly features employees who are making a difference along with full length feature stories on their blog. One really gets a sense looking at the Instagram profile that the Yelp family is just that— a family.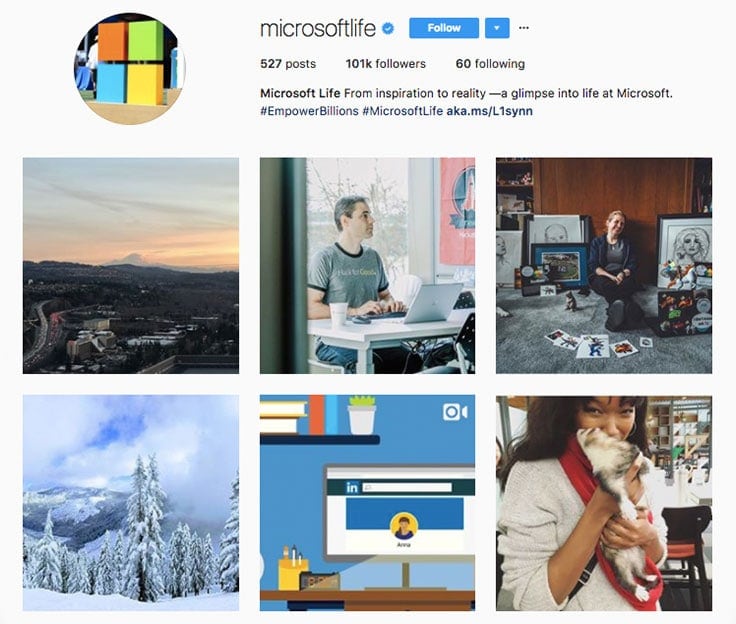 The company that revolutionized computing is no slouch when it comes to company culture either. The bright colours and massive open concept offices really gives one a feel for the global power of the Microsoft brand. It's not uncommon to see what's coming out of the in-house cafe in one post or the ski slopes of a recent team outing in another. With huge campuses around the world Microsoft is never short of anything to share on their Instagram careers page. Sharing on Instagram helps open up a rather corporate image to an audience who wouldn't get a sense of Microsoft's corporate culture otherwise.
World leading innovation is the theme here for Microsoft. Through the Instagram feed hopeful employees are shown the focus and vision Microsoft has for the brand and the employees who work within it. Celebrity meetings, concerts, unmatched perks and multi-city events are only a few ways Microsoft maintains its status as one of the top employers on the planet.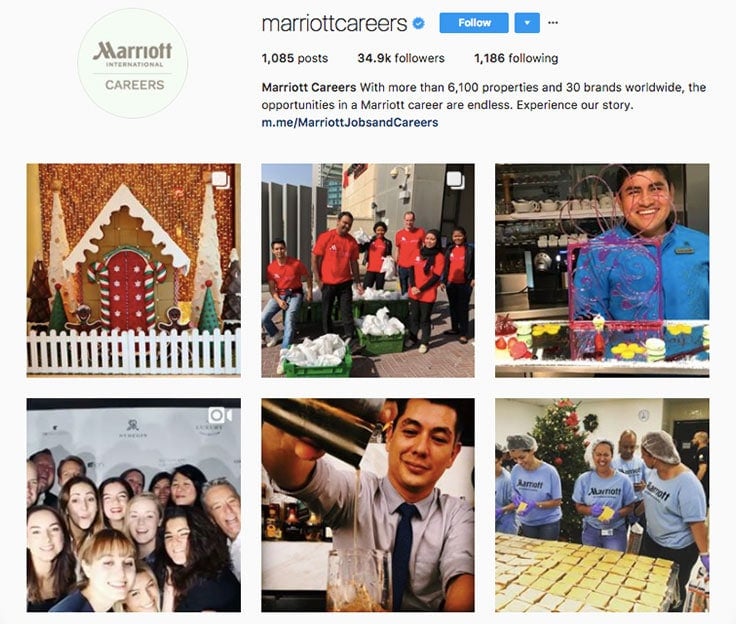 Who'd a thought a company at the top of the hotel industry would also have a popping Instagram page? Known across the world as a premier hotelier, Marriott uses their Instagram career page to put a face to the highly regarded brand. Followers are shown the inner workings of a world-class hotel brand -- everyone from the kitchen staff, to room attendants, and the front desk personnel who make it run. Content posted to the Instagram account is kept light hearted and fun showing that although Marriott is a destination it still knows how to have fun. The candid photos on the page are sourced from staff members and highlights the Marriott family across the world. Staff is regularly shown enjoying corporate events, team outings, charity projects, and of course the destinations that house their world class hotels.
As you likely noticed, companies using Instagram for recruiting are ahead of the curve. What separates these companies from the pack is their willingness to diversify and experiment with different mediums to help their recruitment efforts. Instagram is an excellent way to give future superstar employees a peak into the culture you've so precisely crafted. 
Bring life to work, and your inbox.
Subscribe to our monthly email roundup of news and helpful resources on workplace trends, employee engagement tactics, and more.